"Well, Congressman, I view our responsibility as not just building services that people like to use, but making sure that those services are also good for people and good for society overall." — Mark Zuckerberg, 2018
In the previous two posts in this series, I did a long but briskly paced early history of Meta and the internet in Myanmar—and the hateful and dehumanizing speech that came with it—and then looked at what an outside-the-company view could reveal about Meta's role in the genocide of the Rohingya in 2016 and 2017.
In this post, I'll look at what two whistleblowers and a crucial newspaper investigation reveal about what was happening inside Meta at the time. Specifically, the disclosed information:
gives us a quantitative view of Meta's content moderation performance—which, in turn, highlights a deceptive

PR

move routine Meta uses when questioned about moderation;
clarifies what Meta knew about the effects of its algorithmic recommendations systems; and
reveals a parasitic takeover of the Facebook platform by covert influence campaigns around the world—including in Myanmar.
Before we get into that, a brief personal note. There are few ways to be in the world that I enjoy less than "breathless conspiratorial." That rhetorical mode muddies the water when people most need clarity and generates an emotional charge that works against effective decision-making. I really don't like it. So it's been unnerving to synthesize a lot of mostly public information and come up with results that wouldn't look completely out of place in one of those overwrought threads.
I don't know what to do with that except to be forthright but not dramatic, and to treat my readers' endocrine systems with respect by avoiding needless flourishes. But the story is just rough and many people in it do bad things. (You can read my meta-post about terminology and sourcing if you want to see me agonize over the minutiae.)
Content warnings for the post: The whole series is about genocide and hate speech. There are no graphic descriptions or images, and this post includes no slurs or specific examples of hateful and inciting messages, but still. (And there's a fairly unpleasant photograph of a spider at about the 40% mark.)
The disclosures
When Frances Haugen, a former product manager on Meta's Civic Integrity team, disclosed a ton of internal Meta docs to the SEC—and several media outlets—in 2021, I didn't really pay attention. I was pandemic-tired and I didn't think there'd be much in there that I didn't know. I was wrong!
Frances Haugen's disclosures are of generational importance, especially if you're willing to dig down past the US-centric headlines. Haugen has stated that she came forward because of things outside the US—Myanmar and its horrific echo years later in Ethiopia, specifically, and the likelihood that it would all just keep happening. So it makes sense that the docs she disclosed would be highly relevant, which they are.
There are eight disclosures in the bundle of information Haugen delivered via lawyers to the SEC, and each is about one specific way Meta "misled investors and the public." Each disclosure takes the form of a letter (which probably has a special legal name I don't know) and a huge stack of primary documents. The majority of those documents—internal posts, memos, emails, comments—haven't yet been made public, but the letters themselves include excerpts, and subsequent media coverage and straightforward doc dumps have revealed a little bit more. When I cite the disclosures, I'll point to the place where you can read the longest chunk of primary text—often that's just the little excerpts in the letters, but sometimes we have a whole—albeit redacted—document to look at.
Before continuing, I think it's only fair to note that the disclosures we see in public are necessarily those that run counter to Meta's public statements, because otherwise there would be no need to disclose them. And because we're only getting excerpts, there's obviously a ton of context missing—including, presumably, dissenting internal views. I'm not interested in making a handwavey case based on one or two people inside a company making wild statements. So I'm only emphasizing points that are supported in multiple, specific excerpts.
Let's start with content moderation and what the disclosures have to say about it.
How much dangerous stuff gets taken down?
We don't know how much "objectionable content" is actually on Facebook—or on Instagram, or Twitter, or any other big platform. The companies running those platforms don't know the exact numbers either, but what they do have are reasonably accurate estimates. We know they have estimates because sampling and human-powered data classification is how you train the AI classifiers required to do content-based moderation—removing posts and comments—at mass scale. And that process necessarily lets you estimate from your samples roughly how much of a given kind of problem you're seeing. (This is pretty common knowledge, but it's also confirmed in an internal doc I quote below.)
The platforms aren't sharing those estimates with us because no one's forcing them to. And probably also because, based on what we've seen from the disclosures, the numbers are quite bad. So I want to look at how bad they are, or recently were, on Facebook. Alongside that, I want to point out the most common way Meta distracts reporters and governing bodies from its terrible stats, because I think it's a very useful thing to be able to spot.
One of Frances Haugen's SEC disclosure letters is about Meta's failures to moderate hate speech. It's helpfully titled, "Facebook misled investors and the public about 'transparency' reports boasting proactive removal of over 90% of identified hate speech when internal records show that 'as little as 3-5% of hate' speech is actually removed."1
Here's the excerpt from the internal Meta document from which that "3–5%" figure is drawn:
…we're deleting less than 5% of all of the hate speech posted to Facebook. This is actually an optimistic estimate—previous (and more rigorous) iterations of this estimation exercise have put it closer to 3%, and on V&I [violence and incitement] we're deleting somewhere around 0.6%…we miss 95% of violating hate speech.2
Here's another quote from different memo excerpted in the same disclosure letter:
[W]e do not … have a model that captures even a majority of integrity harms, particularly in sensitive areas … We only take action against approximately 2% of the hate speech on the platform. Recent estimates suggest that unless there is a major change in strategy, it will be very difficult to improve this beyond 10-20% in the short-medium term.3
Another estimate from a third internal document:
We seem to be having a small impact in many language-country pairs on Hate Speech and Borderline Hate, probably ~3% … We are likely having little (if any) impact on violence.4
Here's a fourth one, specific to a study about Facebook in Afghanistan, which I include to help contextualize the global numbers:
While Hate Speech is consistently ranked as one of the top abuse categories in the Afghanistan market, the action rate for Hate Speech is worryingly low at 0.23 per cent.5
I don't think these figures need a ton of commentary, honestly. I would agree that removing less than a quarter of a percent of hate speech is indeed "worryingly low," as is removing 0.6% of violence and incitement messages. I think removing even 5% of hate speech—the highest number cited in the disclosures—is objectively terrible performance, and I think most people outside of the tech industry would agree with that. Which is presumably why Meta has put a ton of work into muddying the waters around content moderation.
So back to that SEC letter with the long name. It points something out, which is that Meta has long claimed that Facebook "proactively" detects between 95% (in 2020, globally) and 98% (in Myanmar, in 2021) of all the posts it removes because they're hate speech—before users even see them.
At a glance, this looks good. Ninety-five percent is a lot! But since we know from the disclosed material that based on internal estimates the takedown rates for hate speech are at or below 5%, what's going on here?
Here's what Meta is actually saying: Sure, they might identify and remove only a tiny fraction of dangerous and hateful speech on Facebook, but of that tiny fraction, their AI classifiers catch about 95–98% before users report it. That's literally the whole game, here.
So…the most generous number from the disclosed memos has Meta removing 5% of hate speech on Facebook. That would mean that for every 2,000 hateful posts or comments, Meta removes about 100–95 automatically and 5 via user reports. In this example, 1,900 of the original 2,000 messages remain up and circulating. So based on the generous 5% removal rate, their AI systems nailed…4.75% of hate speech. That's the level of performance they're bragging about.
You don't need to take my word for any of this—Wired ran a critique breaking it down in 2021 and Ranking Digital Rights has a strongly worded post about what Meta claims in public vs. what the leaked documents reveal to be true, including this content moderation math runaround.
Meta does this particular routine all the time.
The shell game
Here's Mark Zuckerberg on April 10th, 2018, answering a question in front of the Senate's Commerce and Judiciary committees. He says that hate speech is really hard to find automatically and then pivots to something that he says is a real success, which is "terrorist propaganda," which he simplifies immediately to "ISIS and Al Qaida content." But that stuff? No problem:
Contrast [hate speech], for example, with an area like finding terrorist propaganda, which we've actually been very successful at deploying A.I. tools on already. Today, as we sit here, 99 percent of the ISIS and Al Qaida content that we take down on Facebook, our A.I. systems flag before any human sees it. So that's a success in terms of rolling out A.I. tools that can proactively police and enforce safety across the community.6
So that's 99% of…the unknown percentage of this kind of content that's actually removed.
Zuckerberg actually tries to do the same thing the next day, April 11th, before the House Energy and Commerce Committee, but he whiffs the maneuver:
…we're getting good in certain areas. One of the areas that I mentioned earlier was terrorist content, for example, where we now have A.I. systems that can identify and—and take down 99 percent of the al-Qaeda and ISIS-related content in our system before someone—a human even flags it to us. I think we need to do more of that.7
The version Zuckerberg says right there, on April 11th, is what I'm pretty sure most people think Meta means when they go into this stuff—but as stated, it's a lie.
No one in those hearings presses Zuckerberg on those numbers—and when Meta repeats the move in 2020, plenty of reporters fall into the trap and make untrue claims favorable to Meta:
…between its AI systems and its human content moderators, Facebook says it's detecting and removing 95% of hate content before anyone sees it. —Fast Company
About 95 percent of hate speech on Facebook gets caught by algorithms before anyone can report it… —Ars Technica
Facebook said it took action on 22.1 million pieces of hate speech content to its platform globally last quarter and about 6.5 million pieces of hate speech content on Instagram. On both platforms, it says about 95% of that hate speech was proactively identified and stopped by artificial intelligence. —Axios
The company said it now finds and eliminates about 95% of the hate speech violations using automated software systems before a user ever reports them… —Bloomberg
This is all not just wrong but wildly wrong if you have the internal numbers in front of you.
I'm hitting this point so hard not because I want to point out ~corporate hypocrisy~ or whatever, but because this deceptive runaround is consequential for two reasons: The first is that it provides instructive context about how to interpret Meta's public statements. The second is that it actually says extremely dire things about Meta's only hope for content-based moderation at scale, which is their AI-based classifiers.
Here's Zuckerberg saying as much to a congressional committee:
…one thing that I think is important to understand overall is just the sheer volume of content on Facebook makes it so that we can't—no amount of people that we can hire will be enough to review all of the content.… We need to rely on and build sophisticated A.I. tools that can help us flag certain content.8
This statement is kinda disingenuous in a couple of ways, but the central point is true: the scale of these platforms makes human review incredibly difficult. And Meta's reasonable-sounding explanation is that this means they have to focus on AI. But by their own internal estimates, Meta's AI classifiers are only identifying something in the range of 4.75% of hate speech on Facebook, and often considerably less. That seems like a dire stat for the thing you're putting forward to Congress as your best hope!
The same disclosed internal memo that told us Meta was deleting between 3% and 5% of hate speech had this to say about the potential of AI classifiers to handle mass-scale content removals:
[O]ur current approach of grabbing a hundred thousand pieces of content, paying people to label them as Hate or Not Hate, training a classifier, and using it to automatically delete content at 95% precision is just never going to make much of a dent.9
Getting content moderation to work for even extreme and widely reviled categories of speech is obviously genuinely difficult, so I want to be extra clear about a foundational piece of my argument.
Responsibility for the machine
I think that if you make a machine and hand it out for free to everyone in the world, you're at least partially responsible for the harm that the machine does.
Also, even if you say, "but it's very difficult to make the machine safer!" I don't think that reduces your responsibility so much as it makes you look shortsighted and bad at machines.
Beyond the bare fact of difficulty, though, I think the more what harm the machine does deviates from what people might expect a machine that looks like this to do, the more responsibility you bear: If you offer everyone in the world a grenade, I think that's bad, but also it won't be surprising when people who take the grenade get hurt or hurt someone else. But when you offer everyone a cute little robot assistant that turns out to be easily repurposed as a rocket launcher, I think that falls into another category.
Especially if you see that people are using your cute little robot assistant to murder thousands of people and elect not to disarm it because that would make it a little less cute.
This brings us to the algorithms.
"

Core product mechanics"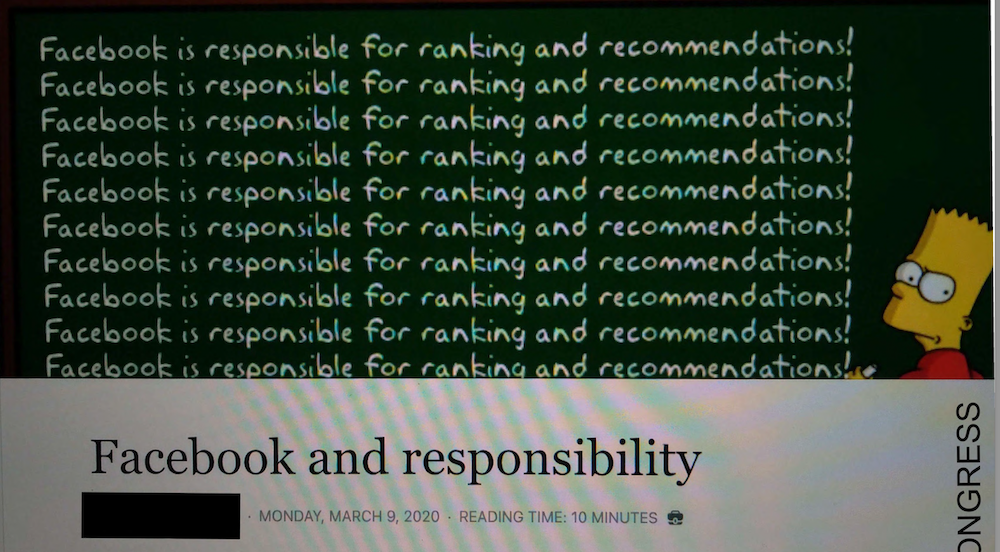 ---
Date
6 October 2023
---
---